2022 National Honor Societies Inductions
Students get inducted into National Honor Society, receiving highest high school honor
On Sept. 26, 2022, SSA held its annual National Honor Society Inductions. Students who met the 3.5 GPA requirements were inducted into the society for that subject, which is the highest honor that a high school student can achieve. Each society had its own pledge, with the main theme of promising one's encouragement to the pursuit of knowledge and excellence. A total of 178 girls were inducted. These include 79 girls inducted into the National Honor Society, 67 girls inducted into Mu Alpha Theta and 83 girls inducted into the National English Honor Society. An additional 90 girls were inducted into the Science National Honor Society, 115 girls were inducted into the Rho Kappa National Honor Society, 30 girls were inducted into National Junior Classical League and 45 girls were inducted into the new National Art Honor Society. A candle for each society was lit to signify its importance, and a president gave a speech per committee.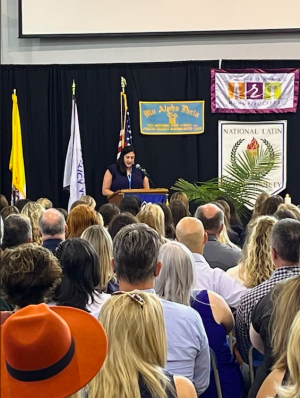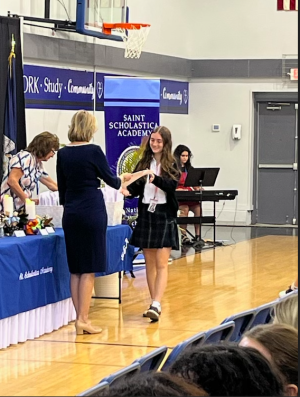 What is an honor society? Here, the girls learn how to provide service to the school by obtaining leadership characteristics. Mr. Glorioso is a moderator for the Mu Alpha Theta honor society. In this committee, students must have an overall 3.0 weighted GPA, along with a 3.5 unweighted GPA in at least two core math classes, excluding Introduction to Algebra. When Glorioso was asked what are some aspects this society has to offer, he said, "Besides the math tournaments, we also one year went with Saint Paul's to Habitat for Humanity to paint houses." Through service to others, each society succeeds in upholding the pledges.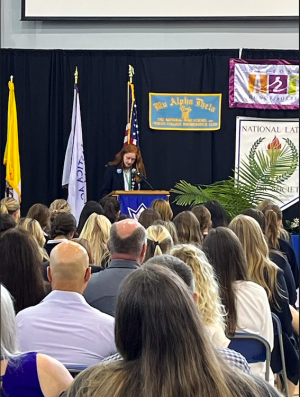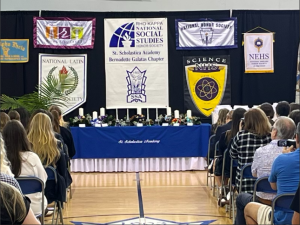 Another aspect that these societies uphold is the importance of community on and off campus. Mia Mannino is the secretary for the Rho Kappa National Honor Society, which pertains to social studies. Along with the GPA requirements, an involvement in civic education in the community is also required. Mannino said, "The best part about the NHS is that we have our own community. Social studies is hard as well as other honor societies so it's great to have a community who can help." Whether an inductee, current member, or moderator, the societies is a great part of school life.