Diving in with the Aquadoves
With 11 consecutive state titles, the SSA swim team has shown its hard work and dedication to the sport in past seasons. This year, the Aquadoves are working tirelessly to improve their talents and set goals for themselves and the team. The enthusiasm and ambition of each member has led the season to start out on a great note.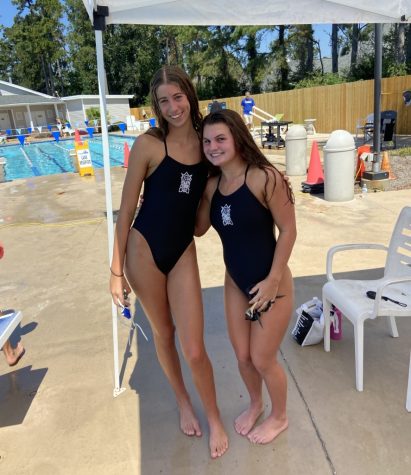 Coaches and Captains
The coaches for the 2022 swim season are Christopher Prator and Shannon Cambias-Prator. Prator is an experienced coach and loves working with the team. "This will be my 25th year or season. I enjoy the competitiveness and comradery that the girls have with each other and then I think watching the swimmers improve is probably the most exciting thing." 
The captains for the 2022 fall swim season are seniors Lilli McCaleb, Asli Tees, Andrea Cuccia and Katelyn Dowdle. The captains are the leaders of the team; they encourage eachother and keep things organized. Cuccia, new to SSA as of last year, was pleasantly surprised by how quickly the team accepted her. "I actually felt very welcomed on the very first day of practice. Everyone was so nice and welcoming. I feel like I connected with everyone as soon as I got there." She believes the team's community is much different than others that she has been a part of. "I feel like I can talk to anyone on the team. I feel like a lot of teams aren't like that." 
Schedule
The Aquadoves practice at Tchefuncta Country Club 3:45-5:00 p.m. Monday-Friday. Tuesday and Thursday there are optional practices at 6 a.m. Prator's practices are usually structured as follows: warm up, build set, main set, something for time every day and then a warm down. The first meet of the season for the Aquadoves was in mid-September and they will continue until the last meet in November, which is the state competition in Sulphur.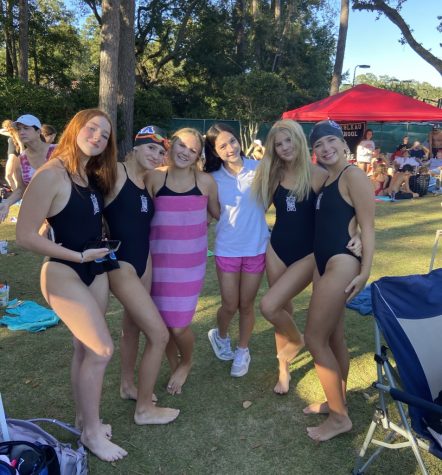 Goals
The Aquadoves set high expectations for themselves. Prator stated that his goals for this year are "to win our 12th title, to win districts, and to finish top 3 in metros and every single swimmer to score at the state meet." The team has a long legacy, and everyone is hoping for another win. Cuccia said that as the season progresses she is "looking forward to state because it's always so fun, and everyone's energy is so high." 
Good luck on an amazing season, Aquadoves!