The majority of people like to start their day with a boost of caffeine, and Saint Scholastica Academy students are no different. In the morning, it is customary to see girls with a Starbucks coffee, loaded tea, or energy drink in hand. However, setting aside time to grab one of these drinks can be very stressful. Thankfully, SSA's own PJ's Coffee of New Orleans has made students' quest for a morning coffee much easier.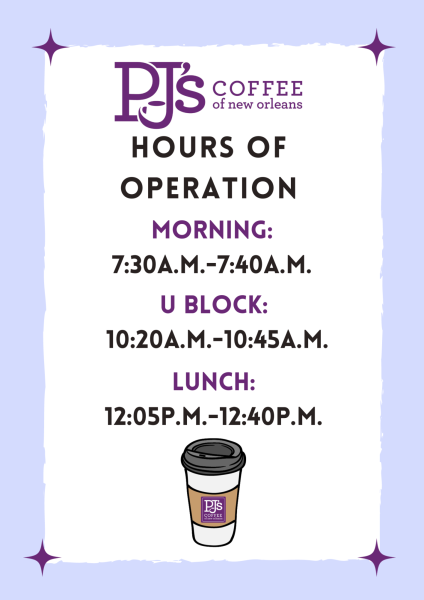 During the 2018-2019 school year, SSA added PJ's to its evolving campus. Along with the great coffee, this addition creates an invaluable experience for numerous students. Under the guidance of moderators Wendy Bertucci and Harrison Lajba, PJ's employs students ranging from sophomores to seniors. However, obtaining this job is not a seamless process. After one collects an application, there is a significant amount of obligatory paperwork. For example, Louisiana law requires all minors to receive a workers permit before they are allowed to work. In addition, prospective students have to fill out W2, 1099, and bank statement forms. Once all these steps are complete and their application is approved, they can become an employee.
As employees, students have plenty of responsibilities. Sophie Pool, a current employee of PJ's, listed a few as, "Making drinks, taking orders, inventory/restocking products, and keeping the workplace clean." Workers are also expected to maintain a positive attitude and provide quality customer service. For many students, this is their first job and encounter with these kinds of responsibilities and expectations. Thus, PJ's provides work experience that not only is beneficial to a student's resume, but also their future careers. Additionally, the job has other perks. For example, workers make the federal minimum wage of $7.25 an hour and are dismissed to lunch earlier than their classmates. Nevertheless, nothing can beat the most important perk of them all: one free drink per shift. Click here to view PJ's menu and some of the staff's favorite drinks!