You don't have to be a Swiftie to know that Taylor Swift's sixth headlining tour, The Eras Tour, has taken the world by storm. From making friendship bracelets to keeping up with each night's surprise songs, the tour can be more accurately described as a cultural phenomenon than just a concert.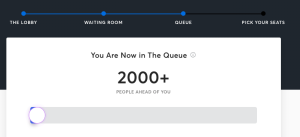 Swift has released four new albums since her last tour in 2018. This combined with Swift's ever-growing popularity caused the demand for The Eras Tour tickets to skyrocket, leaving many fans devastated after not being able to score tickets.
SSA has no shortage of Taylor Swift fans, and some were lucky enough to attend one of her concerts this year. I was very fortunate to travel to Chicago last summer to see Swift live on June 2, 2023, and the experience was one I'll never forget!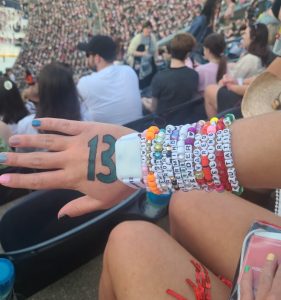 My Eras Tour experience began before Swift even came onstage. When I got to the stadium, I was met with many well-dressed fans eager to trade friendship bracelets. This tradition stemmed from a lyric in Swift's song "You're On Your Own, Kid" where she sings, "so make the friendship bracelets, take the moment and taste it." Fans at every show bring handmade friendship bracelets with words relating to Swift's songs on them, and it was so fun to meet other sweet fans while trading them!
There were also several incredible opening acts on the tour, including OWENN, a former backup dancer from Swift's previous tour who now makes his own music. OWENN's stage presence was unbelievable, and why he isn't more popular is a mystery yet to be solved. The other opener for my show was girl in red, who energetically engaged the audience as she performed hits including "we fell in love in october" and "bad idea!"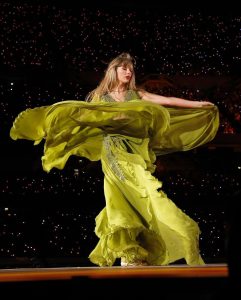 The crowd was full of excitement as the lyric "It's been a long time coming…" echoed throughout the stadium as Swift entered the stage. For 3 hours and 15 minutes, she took the fans on a journey through all the eras of her musical career. She changed outfits 13 times, and each gorgeous outfit was unique to its respective era.
My favorite thing about Swift's performance was how she engaged with the crowd; she invited us to scream the iconic bridge to "Cruel Summer" and all the words to her ten-minute ballad "All Too Well." Swift also stopped several times throughout the show to talk to the crowd; she often made it feel like she was talking to me directly and not the 50,000 people who occupied the stands. This made for a surprisingly intimate experience.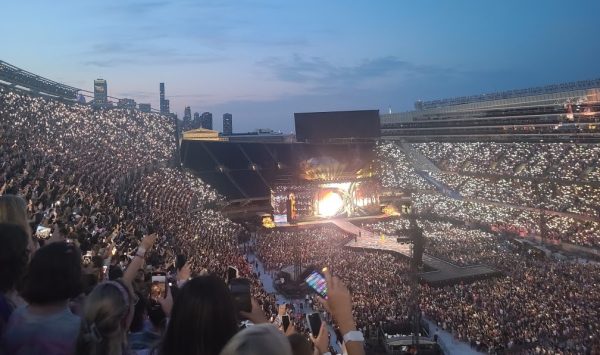 Freshman Lucy Digby went to the concert in Glendale, Ariz. on The Eras Tour's opening weekend. She went into it blind; everything about her concert was a surprise. Digby said, "The outfits, the setlist, all of the stage pieces, and even where Taylor would come out on stage" were all surprising. She added, "I would absolutely go again," and I definitely agree.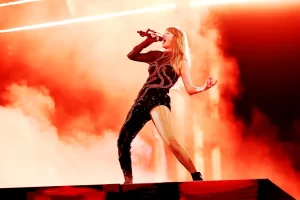 The ten different sections – or should I say, eras – of the concert were very different because of Swift's diverse discography. This article would be way too long if I were to describe them all! If I had to pick a favorite performance, it would be "Look What You Made Me Do" from the "reputation" album; the flashing lights and visual effects were stunning and the choreography was interesting to watch.
Junior Mallory Bachemin attended the concert in Houston, Texas, and her favorite performance was "Bad Blood" from "1989." "That was my favorite one when I was younger," she said. Because Swift performs hits from all her albums, the tour brings back many memories for long-time fans.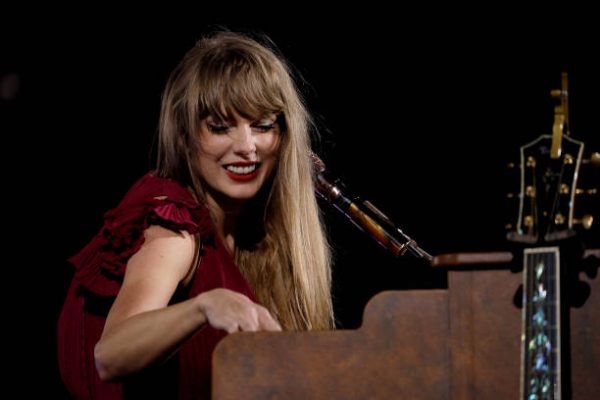 One of the most iconic things about the Eras Tour is the surprise songs because they are unique to each show. Each night on tour, Swift plays acoustic renditions of two of her songs that aren't on the setlist. I was very excited to hear her play "I Wish You Would" on guitar and "the lakes" on piano. Senior Mary Grace Cazenavette went to the concert in Nashville, TN, and her surprise songs were "Out of the Woods" and "Fifteen." She said, "It was so good and very nostalgic. I like how it was a throwback from 'Fearless' and a more recent pop song from '1989.'"
The three plus hours I spent singing and dancing my heart out went by very quickly, and months later it still feels like a dream. But the magic isn't over yet – after years of waiting, Swift will be coming to New Orleans for three nights in the Caesar's Superdome on October 25, 26, and 27 in 2024! If you have tickets and weren't waitlisted like me, get ready for the most enchanting night of your life – you'll remember it "All Too Well." 😉