The Win We've All Been Waiting For
Every year we compete against St. Paul's at Challenge. There are a series of games played in order to win the trophy. The school with the most points at the end of the competition wins. This year we brought the trophy to its rightful home. 
This year's theme was N.A.S.A. for the girls and Greek for the boys. In previous years, Challenge was held after school at St. Paul's, but this year it occurred during the school day. We started it off by dressing in astronaut suits during lunch. Then we marched over ready to beat the boys. 
The competition started with hype videos made by both schools' student councils. Then the seniors played against each other in a competitive volleyball game. The doves dominated. Next, we played a game of memory where each team had to match cards. The doves also won this game. The tube game was played next by a team of people holding tubes moving a ball from one area of the gym to another. This game was hard but the doves pulled through and got the victory. 
The seniors on the cheer and dance teams blew us away with a fantastic dance. A few of the St. Pauls seniors also performed for us. Their dance was fun to watch and very entertaining. We then played a cup stacking game which normally is pretty easy but this game had a twist. The only way to move the cups was with a rubber band. The girls dominated this game and finished all three cup towers before the boys were even close to finishing their second tower. The last game was the balloon pop race. In this game, the players had to sprint across the gym with the balloon between their legs and pop it at the end. Unfortunately, the boys won this game. Lastly, student council representatives told us who raised the most money. Both schools raised $7,101.34. However, the doves raised more money over their goal therefore the doves got the point. 
Kay Kergosien announced SSA won with five points while St. Pauls only had one point. The doves celebrated a long-awaited victory and took home the trophy to hopefully keep for many years. 
About the Contributor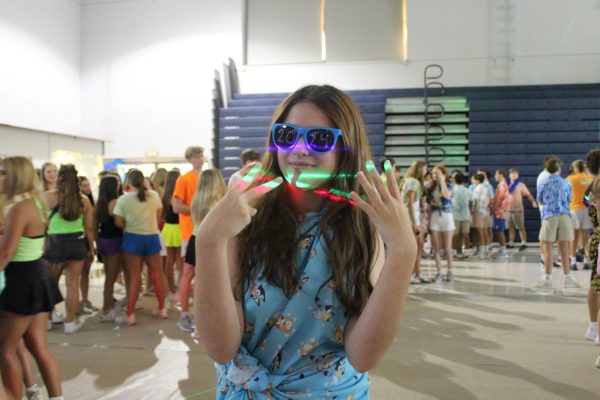 Kiki Kramer, Editor
Kiki is a senior here at SSA. She is in clubs like Nature's Minions, SADD and is Key Club president. She loves being outside and traveling around the world.