A Choral Doves Christmas
On December 7, the Choral Doves held the annual Christmas tree lighting and concert in the chapel. The concert was named "Sing of Hope" to represent the theme of peace and hope during this advent and Christmas season. The doves sang a variety of seasonal pieces such as "Carol of the Bells" and "The Dance of the Sugar Plum Fairy," along with various solo performances. 
Under the direction of Ms. Reagan Hightower, the girls' blend of different voices created such beautiful sounds. Even though the choir is only made up of 13 girls, they resonated, filling everyone present in the chapel with much joy. The choir is arranged so that different vocal ranges are all singing separate parts to make the melody and harmony in every song. 
The doves vocal parts:
Alto 2: Ella Jeanfreau and Leah Savoy 
Alto 1: Kaylee Sedberry and Lillian Candebat
Soprano 2: Olivia Adams, Mary Grace Cazenavette, Gracyn Dunavant, Hannah Garvey and Lilly Mae Molly
Soprano 1: Colette Bergeron, Marly Eason, Brynna Laughlin and Melina Keiger
The Choral Doves performed in long black dresses with pearl necklaces. Hightower commented how she even wore the same dresses in her past choir experience. "Mrs. Gillio and I wanted to create a choral environment that looked elegant and professional." When I saw the girls, I couldn't help but think how beautiful and classy they looked in their attire.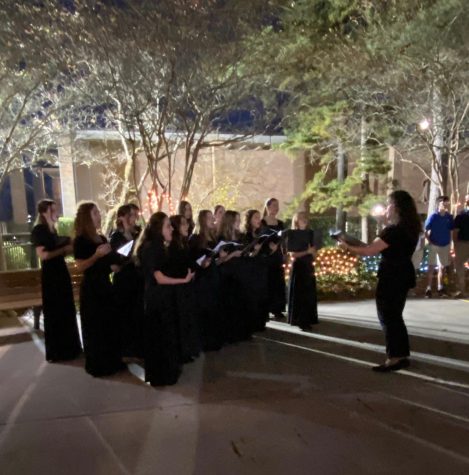 For a concert like this to be possible, the choir puts a great deal of time and effort into practicing. Lillian Candebat stated that "almost every choir class since the beginning of the year" has been devoted to practicing the music for the concert. Hightower explained that the prep for the Christmas concert begins a year in advance. "This work starts in the spring when I choose the songs." 
One of my favorite songs the girls performed was "Dona Nobis Pacem" because of all the different layers. It sounded like an echo filling every part of the chapel. All the songs that were sung were very elaborate and difficult. Hightower even stated that, "Some of these songs I sang when I was in college, so they are college level songs." 
Attending this concert was such a good experience. The lighting of the tree, the performance and the refreshments afterwards all brought our school community together in a festive atmosphere. I highly recommend taking the time to support our choir at their next performance. The spring concert will take place April 26 at 6 p.m. 
About the Contributor
Miriam Simpson
Miriam Simpson is a junior at SSA and this is her first year writing for The Nest. She has been a member of the swim team since 8th grade. She loves the...