Doves Fly to DC!
The D.C. trip is an annual opportunity for seniors. Usually, this trip takes place in January but this year the moderators, Eileen Depreo and Marcelle Delaune, decided to go in October instead. For one, the weather is much better. There was also a better chance of booking certain spots such as the White House. Seniors have been going on this trip for many years and it is considered a tradition.
We visited many hot spots in D.C. including:
● Mount Vernon (George Washington's home)
● Arlington Cemetery
● The Tomb of the Unknown Soldier
● Washington Monument
● The Capitol
● The White House
● The Lincoln Memorial
These were just a few of the amazing spots on the trip. Seeing these iconic historical buildings in person was truly something that I believe everyone should experience at least once in their lives. Not only were the contents inside beautiful and interesting but the architecture of the buildings themselves were also stunning. If you appreciate the arts, I highly suggest going to D.C. to see for yourself.
One of my favorite places we visited was the National Gallery of Art. Inside were famous works by Monet and Degas, which was an experience in itself to see up close. Another place I loved was the Library of Congress, one of the largest libraries in the world. Inside was made of marble with a stained glass roof with pictures of some of the most famous writers, such as Homer and Aristotle. The main library section is called the Reading Room, where thousands of books are brought in daily. This room, along with many other spots in DC, was featured in the popular National Treasure movies.
Each night we would also go on tours to visit famous memorials such as the Lincoln Memorial, the FDR memorial, the MLK memorial and many more. I would have never imagined that the Lincoln Memorial would be that big up close! Other than going to these landmarks, we also got to enjoy D.C.'s wonderful city and October weather.
Overall my experience on this trip was fantastic and I would definitely like to visit again. Before this opportunity arose, I never thought of visiting Washington D.C. but if you have not been yet, I highly recommend checking it out for yourselves to experience America's greatest places.
About the Writer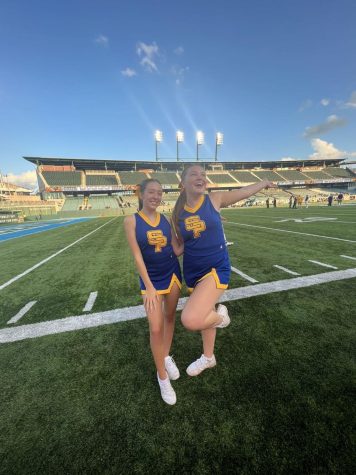 Madeleine Nolan, Staff Writer
Hi! My name is Madeleine Nolan and I'm a senior here at SSA. I'm a writer for the Nest, SSA's school newspaper. I'm on the St. Paul's cheer team and a...