Seniors Serve♻️
On October 12, the class of 2023 branched out to four different locations to serve the community in a variety of ways. 
The Arc-GNO is a 67-year-old non-profit organization that focuses on helping out people with mental and learning disabilities. The Arc has a Mardi Gras store with an immense stock of every bead or throws you can imagine. 52 seniors went to the Arc of Greater New Orleans in Metairie. One group of seniors went through massive boxes of donated trinkets and separated each item into its own labeled box. The other group organized and measured strings and sets of beads by their colors and size. 
Since 1981, about 290 homes have been built and sold through the Habitat for Humanity build site in St. Tammany Parish. 20 seniors painted, cleaned and even helped build a forever future home for a family. The girls handled tools and received a quality hands-on experience.
Habitat for Humanity also has a Mandeville ReStore which sells new and used clothing items, furniture, tools, toys and many more. Six seniors emptied bags of donated clothes, then separated and organized them. They also helped clean and organize the store itself.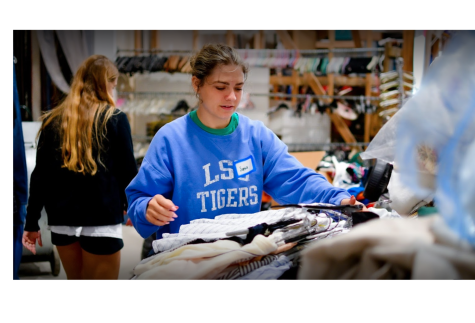 As a senior myself, Outreach Day is a great opportunity to give back and provide a sense of purpose. Taking a day to serve others is not just about giving back, but also learning certain skills for future use whether it's social or physical.
A few of the Student Ministers joined the Freshmen class for their retreat on the same day. Check out Ellen's article here to read about their time of bonding and adoration.
Juniors, you're next! February 8 is Junior Outreach Day.